TIQ - Automated Time Tracking
This post is about a company I've been involved with from the start. I've seen it grow from an idea to a startup and participated in the Microsoft Ventures and Rockstart accelerator programmes.
TIQ is devoted to making time tracking less of a pain. It proactively captures your work activities
and uses them to automatically generate an overview
of the time you spent on specific clients, projects or tasks. We have created a short video to illustrate how it works: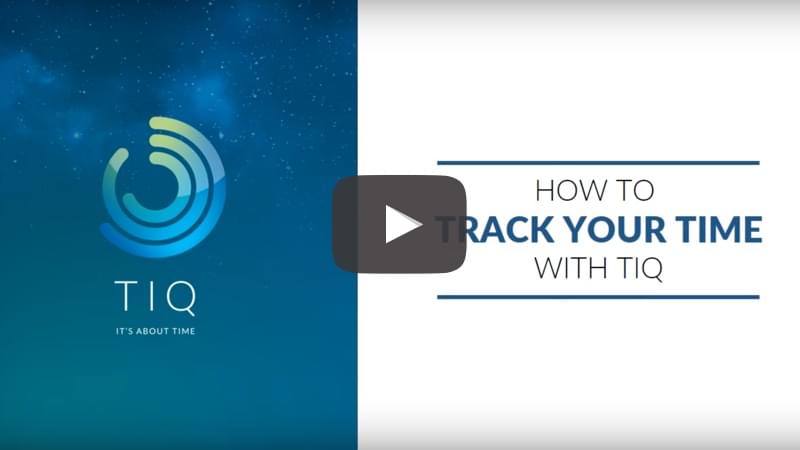 In this post I will shortly explain what TIQ is, how it works and how I got involved in this company.
Background
The idea behind TIQ originated from a previous project I was working on ProjectBooks with Nick Schils, the founder of TIQ. ProjectBooks already had a foundation for automated time tracking, built on top of a full-featured CRM solution. That's when we saw the potential of automated time tracking and decided to create a spin-off to focus on doing just that.
What we do at TIQ
The problem behind time tracking is not that there are not enough tools out there. The real problem is that people don't use the tools, or use them too late.
We found that when workers are asked to fill out their timesheet, they simply go through their calendar, emails and documents to see what they worked on. At TIQ we automate that behaviour, and more, to make it easier to track hours and improve the accuracy of bookings.
Why is this necessary? First, workers generally hate filling out a timesheet and it's a great challenge to make this less of a pain. On top of that, workers are bad at filling timesheets. This is costing companies €40.000 in potential revenue per individual employee
In short: How TIQ works
Without diving into too many details, this is how TIQ works:
Connect: TIQ keeps track of the tools you work with. Connect it to your calendar, email, Microsoft Office and everything you worked on will be automatically put on your timesheet.
Work: Just get your work done. TIQ automatically captures all activity and allocates the time to specific clients or projects.
Validate: At the end of the day, just double-check the overview TIQ has made for you.
We provide integrations with more tools every day to ensure we cover the workflow for as many people as possible.
Final note: Privacy
If you are like me, you might be a little concerned about TIQ collecting, processing and storing private data. During our time at the Microsoft Ventures Accelerator, we have worked together with Microsoft developers to get their seal of approval. This means we have been very cautious not to store any data we don't need and encrypt all private information we collect. Even our developers won't be able to read your sensitive information.
Milestones
I've been involved with the company from day 1 and this has been an invaluable learning experience. A brief overview of the highlights:
2015: 200K seed investment
2015: Admitted to the prestigious Microsoft Ventures Accelerator (London)
2016: Admitted to the Rockstart Accelerator (Amsterdam)
2016: Won the "Emerging App of the Year Award" (Exact Software)
2016: 310K seed investment
How I'm involved
Product Designer (UI/UX of web application, marketing website, mobile application)
Mobile application development: design & styling of the iOS app
Web application development: front-end development in .NET MVC on Azure (HTML/CSS and some occasional Javascript/jQuery/Angular)
Marketing website: full-stack development (PHP website on Azure)
Scrum master
---
More information
TIQ
Notable press coverage
Full TIQ press archive: https://www.tiqtime.com/press
Sources
Image courtesy: header image by TIQ